wh[0x01] WildHack Contest
Written on June 14, 2009
Welcome to our 0x01st contest. Let your grey cells do the thinking/talking :-). Participate by submitting content on security and get a chance to win the ultra-cool, 100% Indian null hacker t-shirts.Winning (and other cool) submissions will also be published on null's website. The best of the lot will also be considered for the upcoming security conference * nullcon.
The Prize teaser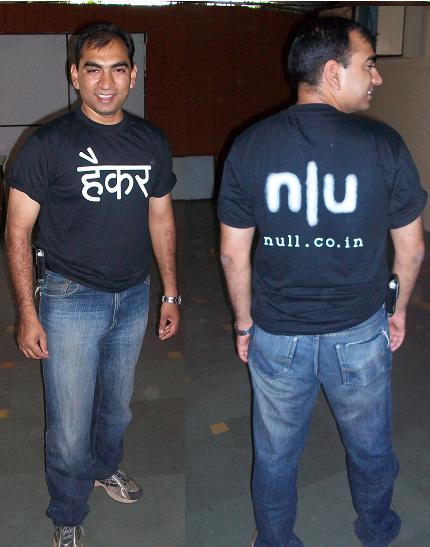 The rules of engagement:
The contest starts on 15th June 2009 and ends on 15th July 2009. Winners will be announced on the null mailing list on 20th July 2009.

The submissions can be anything related to security/hacking.

Submission Categories expected(but not limited to):

L2-L4 security/hacking.
Web 2.0 vulnerabilites and countermeasures.
.NET Malware/security.
Code injection (Binary/XSS/SQL/Command etc).
Spam mitigation and antispam evasion techniques.
Malware detection and antimalware evasion techniques.
Protocol vulnerabilities.
Voip.
Mobile networks GSM/CDMA/3G.
Wireless.
Cryptography.
OS/Kernel and Virtualization security/hacking.
Bluetooth.
Hardware based security/hacking.
Cyber Forensics.
Cyber Warfare.
Social Engineering.

Research work in Progress will also be accepted.

The submissions can be in the form of:

White papers.
Advisories/Disclosures.
Best Practices.
Video/Audio Demos.
Tutorials.
Hacks, tricks & tweaks.
PoCs.
Source code/Tools.

The submission should be original work of the author/submitter.

Your submissions* should be emailed to (submit at null.co.in).

It is ok to submit your work already published on the net like advisories already posted on FD/Bugtraq, paper presented at a conference etc.

Submissions will be judged by the core group members. Criteria for judgement:

More technical the submission, more chances it has for winning.
Innovation/Some thing new and never heard of before.
Age of the work. newer work will get more preference.

Many T-shirts/null credits to be given away, subject to no. of submissions received.

For any further queries/details please write to (dhiraj at null.co.in).
Results
And…. the lucky winners are:
Sumit Siddharth - Tool: sql Injection.
Simran - Paper: Bypassing url filtering in Dubai
Prakash - Disclosure: Directory index information disclosure in null website.
Raxit Seth - Disclosure: Information leakage in outllookindia.com website.
Disclaimer: By submitting your work to null you are giving null the right to publish and redistrubute it in any form.
---