An On Target "Air Borne Humla" … Bravo !!!
Written on December 20, 2012
After a long time we had an Humla Session in Pune. And I am happy to let you all know that it was great one. Though I personally missed upon it, the "Wireless Security Session – Part -I" was really great as per the feed backs received from the attendees.
The Humla Champion for the Session – Swaroop Yermalkar, seems to have struck the right chord and following are few Testimonials received for the session.
"The session was really informative and helpful to me although I could not arrange wifi kit. Command over wireless technology is appreciated. Please continue the similar sessions and looking forward to see another part of Air Borne – HUMLA session."

– Santosh Parab, Admin, McAfee
"It was a nice experience being a part of 'Air borne – Humla Session' on Saturday. It was detailed and informative, as well as practical and enjoyable at the same time. Thanking you for mustering your energy and time, for devoting to this free and awesome education for us. Looking forward to many more."

– Abhay Vaish, Threat analyst – iSIGHT Partners
"Overall I found the session very interesting and informative. The content was very organized (open authentication to wep secured auth). Swaroop has in depth knowledge of the subject. Overall it was a very useful session."

– Gaurang Manchanda, System Engineer, Infosys
"Well i attended session and i found it very informative. I plan to attend all your humla sessions in the future. Thank you so much for taking the time and conducting the sessions."

–– Jovin Lobo :Application Security Consultant
"The information is very useful for me . i have enjoyed it . thanks for sharing knowledge."

– Varun Sareen, Project Engineer
"I want to thank you for the informative session on wireless security today. The session was very well organized and the activities were fun. Keep up the good work."

– Dhiru Kholia, Soft Engg-STEC Inc
"Truly that was a nice and informative talk. you created my interest in wifi-security. Thanks a lot of sharing your knowledge."

– Rohit Verma, Project Engineer [CDAC]
"It was a very good session on wireless hacking with good blend of both theoretical knowledge (starting from basics) and practical knowledge .Hope so u will continue this wonderful work .." – Prayas Gupta, Student – Symbiosis Institute of Computer Studies and Research
"I found the session very informative. I appreciate your efforts and knowledge. Keep it up :)"

– Ramesh Raithatha, Trainee @ Payatu Technologies
Well I personally would like to thank Swaroop for giving the session, but at the same time expect more talks from him so that we can continue with the next concepts in Wireless Security.
The First Part of the Humla, was the Basics of Wireless Security. In the coming parts we plan to have Advance Concepts in Wireless Security and Hacking.
I would also like to call upon fellow mates in the mailing list to participate in the next Parts of the Series. Timely Announcement would be made on the mailing list about the session, and people would be invited to register for the next part. Active participation from you all will help us to make it more successful.
Keep Hacking…and Sniffing… :)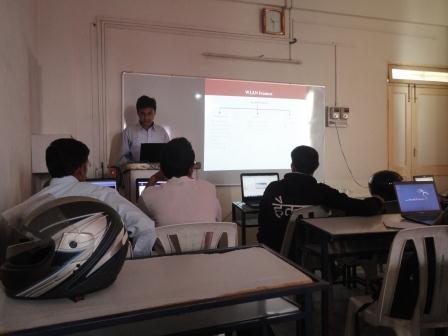 regards push
---